Key benefits of 3CX
3CX setup costs are affordable and cost effective
The mobile phone apps allow staff to use their mobile phones as extensions of your business phone network - enabling easy remote working without having to give out individuals' mobile phone numbers.
If you already have a reasonable broadband connection and a server/decent workstation, 3CX can be installed on your existing hardware, reducing costs.
Avoid paying large line rental bills and massively reduce your call costs
Superb range of IP handsets available from a range of manufacturers which can be purchased upfront to avoid ongoing rental costs.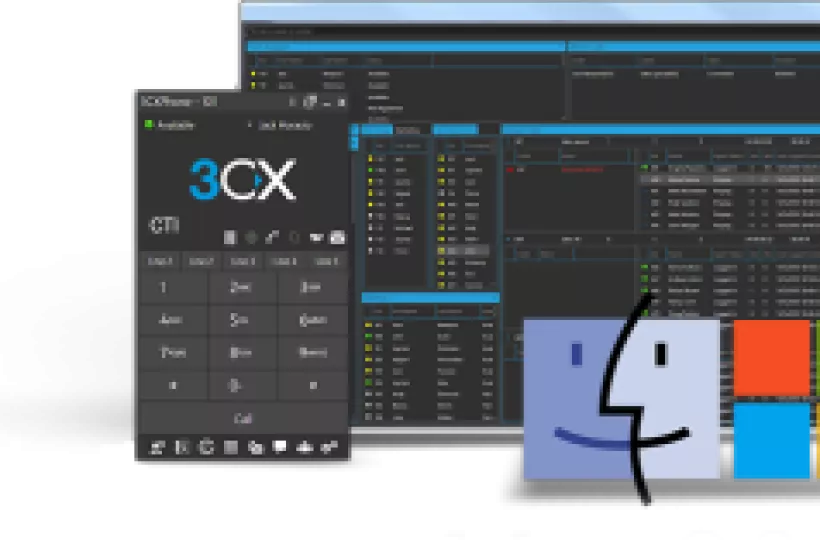 Call management made easy and incredible mobility
The 3CX client software can sit on a user's computer providing them with instant access to the company phone book (one click and call), the ability to set availability of their extension, easy transfer features and the ability to see colleagues' presence information. Similarly users can use a web client to do this from any computer, either as a software phone (avoiding the need to pay for IP desk phones) or as a means to control their desk phone to answer, transfer, make or reject incoming calls at the click of a mouse. This means staff can easily navigate through all the functions they require without having to learn tricky function key combinations to perform simple tasks. The 3CX client is available for Windows and MacOS, as well as the new web console that was introduced in version 15.5.
Deliver faxes & voicemails direct to your inbox
Inbound faxes are converted to PDF and forwarded to users via e-mail, without requiring any fax server software. Likewise voicemails are converted to sound files and forwarded via e-mail.
Forward voicemails to inbox
Listen to voicemails without calling in
Faxes are received as PDF files in your inbox
Incredible Mobility
The 3CX system includes apps for both iOS (iPhone) and Android meaning staff can work on the go. All they need is 3G/4G or wifi connectivity on their mobile phone. Call costs route back through the company account. PUSH functionality means that the battery life on the phone is not drained - the app wakes up when a call arrives. Staff outside the office can call clients from the office number or transfer calls to colleagues in the office. No need to give out your personal mobile phone number any more, so you can turn off the office number when you stop working.
Reduce your call costs and ongoing bills significantly
3CX Phone System not only provides you with many new features to improve customer service and boost productivity, it will also cut your telecoms bill in half and give you the means to communicate with IP Telephony! Your phone bill will be slashed, but so will the cost of buying, expanding and MAINTAINING your PBX .
Teleworkers or people working from outside the office can make calls free of charge – saving you significant charges. Connect remote offices by using bridges and all calls between offices are free. International DIDs and IP Telephony allow customers to call you cheaply and increase customer satisfaction.
Connect remote offices with bridges and eliminate interoffice call charges
Teleworkers or travelling sales people make free office calls
Save on monthly call costs

By 2025 all BT's analogue phone networks will be obsolete!
BT are moving all their customers from the old analogue public switched telephone network (PSTN) to a fully digital network. They've already started and are planning to have moved everyone over before Openreach stop the PSTN (and ISDN) service in 2025. By then, every phone line in the UK will be digital, routing calls over IP (Internet Protocol) rather than the traditional PSTN.